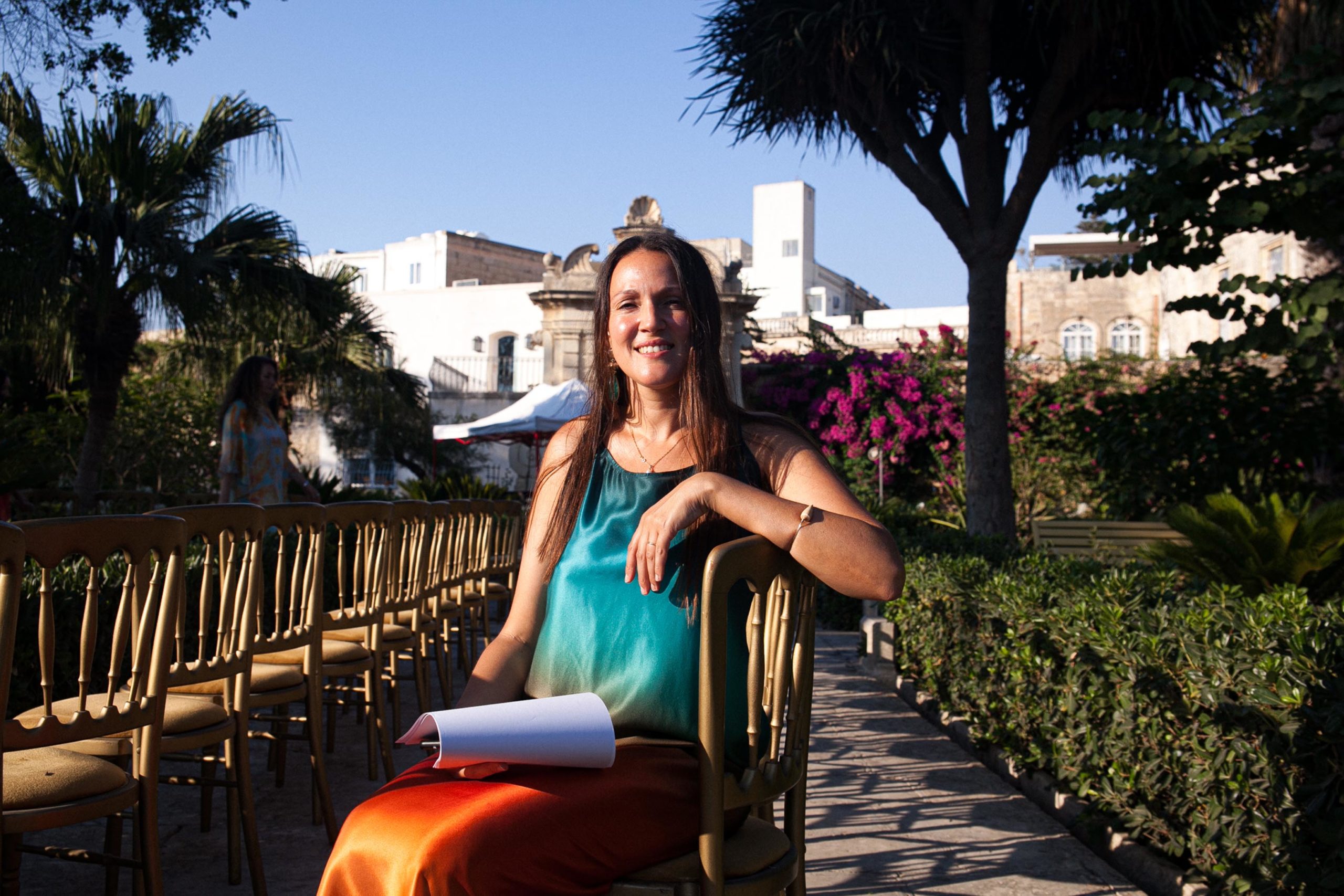 03 Aug

From Silk in Motion to Community in Action; a chat with Carla Grima
Feature photo by Justine Ellul
From the very start, the essence of SHE has been about support, empowerment, education and community for established and aspiring female entrepreneurs of any background or industry.
Another key element of the SHE ethos is collaboration.  Anyone who has attended our live events will have felt this firsthand. We've been proud to count local fashion designer Carla Grima (a former panel speaker of ours) amongst our valued members for some time. In the SHE spirit of community, Carla invited me to one of her beachwear events and later, her first Silk in Motion concept show in 2021. In the stunning setting of the Phoenicia Palm Court lounge, guests forgot about the intense Malta summer heat and let themselves drift off to another world through poetry, piano and fashion.
A year on, Carla Grima has pulled off another successful symphony of colour, fabrics, sound and vision. Her atelier's second (even more ambitious) Silk in Motion show skillfully showcased this season's collection Holiday Home, presenting models in the 'alternative catwalk' setting of the magical Palazzo Parisio gardens while bringing together a talented diverse group of performance artists.
Stunning designs, beguiling patterns, sumptuous fabrics, mesmerising performances, transcendental music, the intoxicating energy of flamenco dancer Francesca (La Chica) and her partner Andrej, the uplifting rhythms of the Kora instrument playfully worked by Haruna Kuyateh, the graceful movement of dancer Zoe Camilleri synching her body to Yun Cai's soulful piano improvisations, the lilting voice and evocative words of Julia Ripard and a cast of 'real women' models. As Carla herself described it, "silks and prints being brought to life through sound and movement". This was no small accomplishment! And Sarah and I were delighted to be among the lucky guests soaking it all up.
So as collaboration and community are two of SHE's guiding principles, it was only natural that we talked to Carla about her latest collaborative project:
Photo 1 by Justine Ellul. Photo 2 by Matt Thompson.

What was the initial inspiration behind this collaboration of the arts? 
The fledgling idea of a preview event was born when I was on honeymoon last year and thinking about new marketing ideas. That may sound a bit unromantic, but when you're away, you have time to open yourself up to more creativity. I was chatting with Yun after connecting with her on Instagram and she mentioned her piano improvisation abilities. As the Phoenicia had given me space for a month, I thought of this combination concept of sound and fabric. Another spark was that during the pandemic, design houses/studios had to seek new ways of showcasing their work. So we in fact found ourselves with this bigger platform to be more conceptual and creative rather than following the standard runway routine (which has always done its job but it was great to do something fresh).
What was the number one objective that you wanted to achieve with the Holiday Home show?
To create an experience that was about selling a moment to our guests, not just selling clothing. I wanted the guests to feel relaxed, understand the fabrics more and be absorbed in the performances. So the main objective was to give a fresh experience to our audience and give them a feeling of serenity in a beautiful space.
What specific experience did you want your audience to have watching the performance?
Several elements actually. I really wanted people to feel calm in the chosen space so they could take in all of Julia's words, reflect on the day they'd just had and the possibility of what tomorrow/the weekend/a trip could bring. So the marketing strategy was also geared towards this absorption of the performances and visuals rather than a pure 'collection-led' approach. The focus was the 'restart, reboot, refresh, renew' concept of our collection and the story we wanted to tell through the clothing.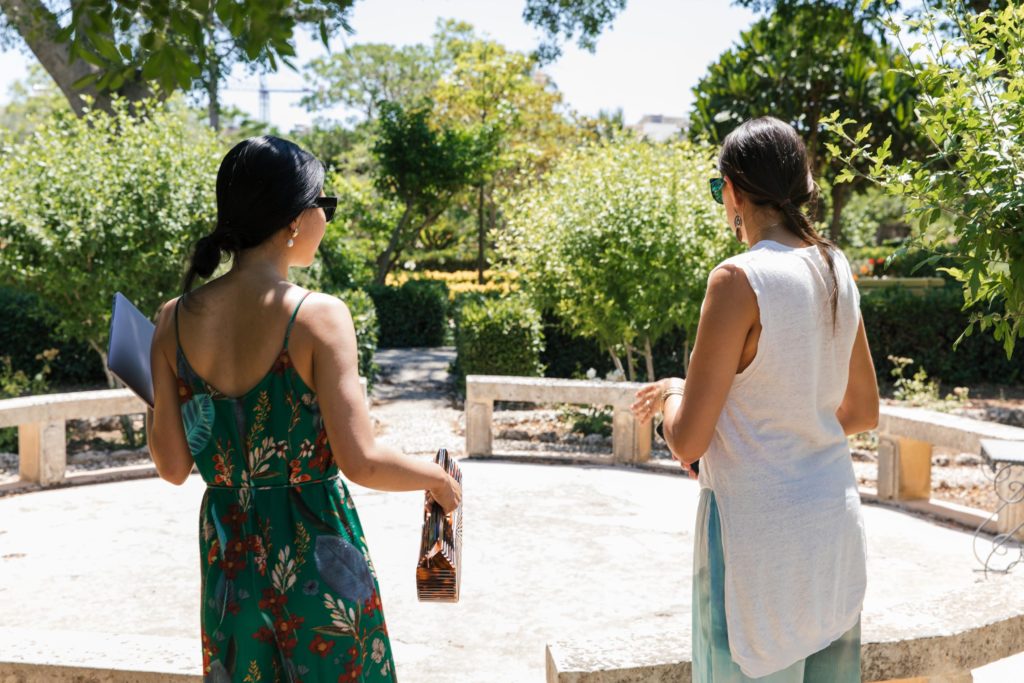 What motivated you to select this particular set of artists?
They were all chosen in different ways and the aim was to find a cast that could embody the Mediterranean theme via their looks, talents and personalities.
Yun and I have a good creative bond from working together on various projects and I think we've helped one another change our outlook and widen our audience (which is what collaboration is about). I love how we inspire and influence each other in different ways. She knew I wanted to expand the concept after testing it via our 2021 preview event and was excited about this new idea. So Yun was a given; frankly, she couldn't have escaped even if she wanted to!
Julia is an exceptional writer and visual content creator. I knew I could trust her to describe my thoughts and concepts with her poetic romantic writing and reading style.  Thankfully, even though she'd just got married, she said yes so the event took place the day before she left on honeymoon.
La Chica is actually my cousin. I've followed her career closely since my teenage years but hadn't worked with her before. I've always been in awe of her and Andrej's passion as performers and I wanted to inject this into our show. This connection of two individuals unaffected by what's around them, forgetting life's busy-ness and just performing for each other, losing themselves as if everyone else is invisible…was something I felt would be so special for the audience. Also, a while ago I made a sample piece which I thought would be great on someone like La Chica with her intense movement style. So I produced a sample in a heavier silk, silk satin, to give a fuller movement, sent her a photo with my (probably abstract unrealistic sounding!) idea as I felt she and Andrej would fit this scene perfectly. And it all came together as they were coming to Malta already.
Haruna was a late lucky find. We wanted the show to include strings and we explored classical options of cello/violin. It didn't pan out so we started thinking of alternative string ideas and that's when Anna saw Haruna busking in Valletta on the kora. The original plan was to place him in a casual lounge setting but subsequent video research revealed we'd actually stumbled across an amazing discovery! Such an original calming sound, historical flavour and the instrument itself is a work of art.
In Zoe, we found the perfect lyrical contemporary dancer. From the way she moves with her long limbs and hair, she just looks like a mediterranean goddess. My mind literally placed her in the Palazzo Parisio garden with the silk doing its thing on her body.
And finally, the gorgeous women who walked for us: clients, friends, colleagues…just women of different relatable looks from my pregnant sister in law to our sales manager. I'd have loved to have more participants but felt awkward approaching others as people are still so used to seeing typical runway models. Nevertheless, it was a fantastic group of women (and it was obvious they understood the brand so it was really special).
Did the final event meet your expectations?
This is an interesting question. Overall yes. It was a great event: the venue, mood and comments were beautiful. Things that I wasn't so happy with were final styling details that we missed in the excitement. In fact, I'm already looking forward to discussing the next one to see how and what needs to be worked on in favour of a more perfected immersive show.
Did you receive feedback that matched your desired outcome – or that even surprised you?
Feedback definitely matched our intentions and I loved that the audience felt a sense of delight as they didn't know what to expect. The biggest surprise was that we didn't receive negative comments from guests regarding their visibility being blocked by trees and garden foliage etc. Despite repositioning the seating, it was impossible to totally prevent this, hence inviting guests to roam around. I think people just took in the surroundings and weren't bothered by a flower obstructing this or that as it was just part of the experience.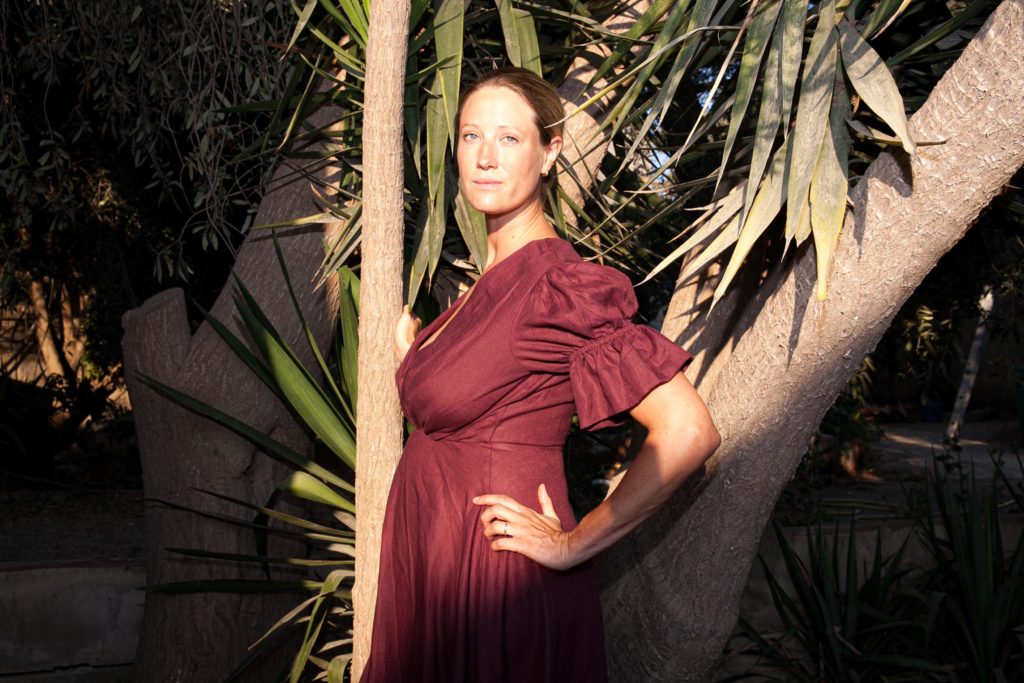 The same week, you also delivered a presentation"From Paper to Hanger" for the latest SHE member meetup, describing the process by which your garments are brought to life from sketchpad drawings to finished boutique item.  Similarly, can you describe the journey you went on to accomplish this show from original idea to physical Silk in Motion performance?
I love this question and it's probably going to take me a while to answer it!
So first, we held the preview event to test this idea of using expressive performance as a new way of exhibiting and launching products. (Not an actual collection launch as it was mid-season; purely a tryout of the Silk in Motion idea.)
Then came the post-preview analysis with the amazing Anna who works with me on productions/shoots and whose strong eye for detail and visual perfectionism I rely on. We looked at what went well, not so well, people's responses, the movement of the clothes, the diversity of the guests (not just a fashion-focussed crowd).
From that, we started shaping this July's event starting with the venue choice. Despite considering several locations, Palazzo Parisio had always been the main contender in my mind – especially for its amphitheatre-style back area and other potential sections.
Next came storyboarding: looks, scenes, the concept of the Mediterranean lifestyle (longevity, happiness, vibrancy) behind the Holiday Home collection.
Menu choice involved me creating recipes with a colleague that used ingredients matching the Med theme (eg. mulberries (more specifically the Sicilian gelsi), homemade lemonade and even the watermelon all from the Palazzo Pariso garden).
Then the integral search for performers who were not just talented artists but would feel confident wearing our garments.
Added to this was invitation design, the guest list, sponsor pitches (again companies who fitted our ethos)…
We didn't use a makeup artist and initially not even a hair stylist in order to keep things real and show everyone's natural beauty.
There was no full dress rehearsal or soundcheck. Even Yun's opening outfit was changed last minute in favour of a different colour. So it was a huge amount of admin, scheduling, faith, pressure, challenges, research, improvisation, anticipation and winging it.
What for you were the two biggest triumphs of the evening?
One was the sheer energy of the women who walked in the show. And the guests' feedback reflected that. I feel we got what we set out to do i.e. the women were so happy to have done it and the audience really appreciated it. Secondly, people felt really treated and enjoyed how fresh the show felt. It's wonderful knowing you've created something that achieved that. We were also absolutely blessed with our backstage team, the photographers and videographers.
And are you willing to reveal the biggest challenges of the project?!
Yes, a) the biggest one was coordinating it all. I really enjoy event management but ultimately, I realised I needed someone else to do the running around and take that weight off me. I did take advantage of offers of help but still thought I could do it all and micromanage the whole process. There were details that could have been better handled by a right hand person ticking those tasks off.
b) There were also final styling detail challenges, such as accessories and even the hang of the silk shifting when the models walked from the dressing area to the stage.  So I wish I'd been near the stage to rearrange these things on them.
c) When you have sponsors, you feel the  pressure to deliver everything you promised them. Admittedly, I was organised, sent logistics checklists and frequently communicated with the sponsors pre-show, during the event and post-show. But that last hour before the show was awfully stressful knowing that I couldn't rewind and redo the event and therefore had to be sure I'd done everything possible to please the sponsors.
d) I had moments of not wanting to go ahead with the event because after the long buildup to it, ironically many aspects were rushed in the last 24 hours. And Yun's piano being transported and placed on a stage that had been built above an actual well literally kept me up at night. I hoped people didn't enter the garden the next day to find a hole in the ground!
e) Ideally, I'd have had more time to just pause, take a breath and think about my own needs instead of being purely focused on pleasing the audience, performers, venue and sponsors.
Perhaps due to cultural reasons or small island syndrome, there seems to be a historic reluctance for individuals in Malta (in any industry) to collaborate with each other. Do you think the tide is changing? (And if so, in what sense?)
I do feel people do not collaborate enough and it's hard to pinpoint why. Perhaps it's a fear of being copied or a matter of confidence. I can't say I see enough collaboration or feel the tide is changing (despite myself working on several collabs such as the Malta Creative Collective). I do feel collaboration makes us stronger. But that said, my experience has been easier when working with people in other creative sectors rather than with people in my own industry. I would probably join forces more with fashion designers once my own concept grows further and l feel even more able to express my studio's identity.  I do feel everyone should just be more open to having these collab  conversations.
Do you have any advice for entrepreneurs and/or artists who are interested in collaborating with others but are hesitant/inexperienced?
Yes. If you feel you're less experienced than the other person, put a presentation or a design deck together that shows you're serious. Alternatively, make sure you've got your ideas clear in your own mind before making an approach. It's easy to get sidetracked, nervous or come across as uncertain about your reasons for seeking an alliance. If nothing else, think of it as a fun creative conversation. Who doesn't like to receive a message from someone who admires what they do enough to invite them for coffee and listen to them talk about their work?! This is especially true amongst the creative industry as it can be inspiring working with new or undiscovered people. That's what a lot of collaboration is: growing a career, helping someone (like Yun) get themselves out there. working with them to launch an idea that they'll enjoy continuing to develop on their own. It's the same every time I work with fresh faces in shoots or shows…people who aren't even in the industry but have a great energy to work with so you feel you're discovering and nurturing each other. This is often more rewarding than working with people who are already established.
Will you do it again?!
Definitely! I just wish it had been a two-day event allowing us to iron out those 'unfinished' day one details. I know that's just behind-the-scenes perfectionism and the desire to cross everything off our creative wishlist. However, I know Silk in Motion is a concept we will be growing and expanding with each performance. Everyone involved gets excited about the next event and we welcome constructive criticism and honesty. We look forward to bringing you the next one!
Last but not least: the cast of collaborators. These are the people who helped Carla bring her visionary concept to life:
Production: Anna Peftieva of Moonman Studios
Venue: Palazzo Parisio
Audio: Besteam Audio
Poetry: Julia Ripard
Pianist: Yun Cai
Flamenco & Cajon: Puerto Flamenco
Kora Musician: Haruna Kuyateh
Dancer: Zoe Camilleri
Models: Moira Chetcuti, Ana Fil Fidanovska, Emma Coleiro, Natasha Kosatka, Hannah Giacchino, Emily Ripard, Lauren Emily Ripard, Jessica Grima.
Backstage: Livia Arrigo, Rebecca Delia
Hair: Galea's Hair Salon
Sponsors: Neosephiri – Whats in Your Glass – Art Diamond Boutique – Uber – Palazzo Parisio
Photographers: Matt Thompson Photography – Justine Ellul Photography –  Ann-Sophie – Inesbahr_photography
Videographers: Blonde and Giant
Home of Carla's creations: Salt&C boutique
Thank you Carla for these gems of wisdom, learnings and insight which we hope are of benefit to the SHE community and beyond. A little island of big ideas…
Written by Prabjit Chohan-Patel