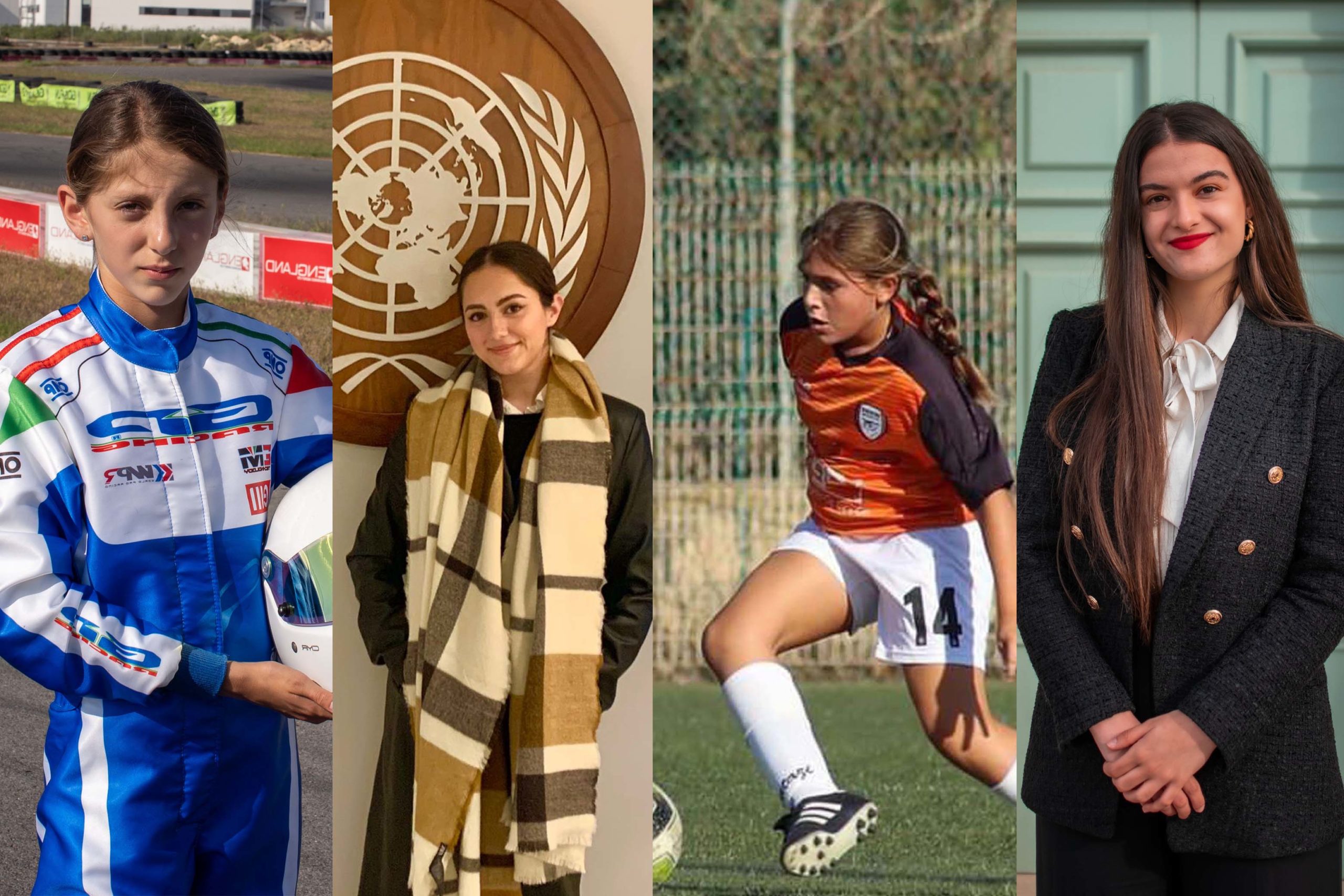 18 Oct

Malta's Future Wonder Women
Written by Prabjit Chohan-Patel
In December 2011, the United Nations General Assembly declared October 11th as the International Day of the Girl Child, in recognition of the challenges faced by girls around the world, to advocate for their rights and promote their empowerment. The issues impacting the lives of young females have no geographical limit, affecting every continent including 'modern' first world territories.
We could talk about how girls of 5-14 years spend 160 million more hours daily on unpaid care and domestic work than their male peers. And other realities for girls such as inadequate access to essential healthcare or even basic education in many parts of the world, gender stereotyping, body image pressures, reproductive rights struggles and disparity in STEM educational and career aspirations.
We could look at protection and safety issues for girls (child marriage, trafficking and violence against girls). Or  the impact of girls' intersectional identities (race, ethnicity, socioeconomic status, disability and sexual orientation) on their lives. How about the importance of equipping girls with digital literacy skills given that around 90 percent of young females in low income countries don't use the internet while their male peers are twice as likely to be online.
Or the need for better media representation that shapes positive societal and cultural perceptions of girls, challenges stereotypes and empowers females. As Barbie is 2023's highest grossing film, it gets a mention here despite its worryingly counterproductive message that 'females are better than males'.  A premise which surely undermines the original feminist mission that girls and women should be viewed and treated as equal to but not better thanboys and men.
Amidst the clouds of disparity and disadvantage though, there are silver linings of positivity and progress thanks to female role models worldwide. Recently, Simone Biles made sporting history as the most decorated gymnast of all time. Closer to home, it is the era of Roberta Metsola, the European Parliament's youngest president, its third ever female president and of course its first ever Maltese president, listed by the iconic Time Magazine in its list of 100 next most influential people. It is the era of Eve Borg Bonello, the youngest person (male or female) in constitutional history to become a member of parliament or national legislature, not just in Malta but…the world!
So this month, the SHE blog is putting the spotlight on four of Malta's own female pioneers: girls and young women on this little rock who are breaking down barriers through the pursuit of their passions, providing inspiration to us all.
Law Student, International Officer of National Youth Council of Malta (KNZ), Winner JCI Europe Public Speaking Competition
"I want to share hope…that the world around us will be easier for future young girls, that the tireless work of women will be worth something. Above all, I'm grateful for all the women that came before me, for the ones who raised me and showed me who I am and for every single woman that made space for me, led me and was there for me when the world wasn't."
It's difficult to do justice to Chloe Cauchi's active citizenship in only a few paragraphs. The roll call of organisations she has been/is involved with in her work to promote youth rights, support minority groups and combat under representation, is almost as exhausting to read as it is awe-inspiring (and is certainly too long to list)! Her many positions as Commonwealth Youth Exchange Ambassador, KNŻ Delegate to both the European Youth Forum and the Southern Youth Councils and KNZ International Officer have taken her to different countries, inserted her into pioneering thought spaces and placed her at some significant events including the 2023 Commonwealth Celebrations at Westminster Abbey, the European Congress on Global Education to 2050 and even COP, the United Nations' Annual Conference on Climate Change. Becoming a Royal Commonwealth Society Fellow has added the most recent feather to her cap.
Raised in a family that didn't shy away from discussing diverse topics, Chloe started feeling a pull towards activism aged 12. Joining KNZ coincided with her growing interest aged 15 in human rights and its link with environmentalism. Since 2018, her sense of duty has seen her become a member of the Mini European Assembly (a simulation of the European Parliament) discussing topics with students from other European countries, the Model European Parliament and the Malta Model United Nations serving as events officer and subsequently President. Realising that strong public speaking skills could help her current roles and her future career choice as an International Human Rights lawyer, Chloe entered the JCI (Junior Chamber International) Europe Public Speaking Competition, finishing as 2022 runner up and  2023 winner.
Her strong background of ballet, jazz dance, violin, classical singing and a Trinity College diploma could attract lazy assumptions about a charmed life. Yet the reality of Chloe's personal story contains a prolonged period of intense bullying. She credits school support and a particularly inspiring teacher for helping her survive and ultimately thrive beyond this ordeal.
It's clear that Netflix binges are low down on this young woman's to do list.
Kart Racer – GP Racing Karts Malta & Di Pietro Racing. 
"I don't have any problems with being a female kart racer. I race with the boys and there's no comparison. Off the track we're all friends; on the track we all want one thing and that is to win a race."
Despite having two Hillclimb drivers for parents, Jessica Calleja's early childhood interests lay firmly in dance and gymnastics as far away as possible from the roar of loud engines. But a visit to Hal Far's La Reve Kart Track, aged 7, provided the spark that ignited her passion for go kart driving and the realisation not long after that she actively wanted to pursue a career as a kart racer. The pivotal moment came when Jessica's parents contacted Mike Clews, Team Manager of GP Racing Karts Malta, after recognising  the seriousness of their daughter's commitment. And she was off…
In fact, given that her story started with zero motorsport aspirations but now involves her ultimate goal of becoming an FI driver, it is tempting to make further motoring references such as 'doing a u-turn', 'going from 0-60' and 'not looking back' when talking about this driven (yes I went there) young girl. Notable career achievements so far include placing third overall in the Rotax Mini Category (her first ever go kart championship), being selected by local journalists as the Zaghzugha tas-Sena (Youth of the Year) 2022 semi-finalist for her progress as a young female go kart driver and receiving an invitation to join the Swiss international kart racing team Di Pietro Racing (DPR) alongside her existing affiliation with her Maltese team.
At the age of 11, Jessica comes across as having a logical and mature outlook on what it takes to succeed. Understanding the mechanical challenges, adapting to the natural elements and building a symbiotic and communicative relationship with the team mechanics are some of the responsibilities of a determined kart racer. Add the physical training required to push through high speeds in varied weather conditions and the mental strength needed to cope with the ups and downs of race day and it is clear this young girl has a sensible head on her shoulders, one that has also benefited from supportive parents who carved their own path before her; her mother Stefanie fulfilled her own childhood dream and started hill climbing when there were no females in motorsport.
Speaking from personal experience, Stefanie's advice to young girls is to realise that "dreams come with challenges but when [you] aim for them and work on them, they will come true. There are many more girls participating [in this sport], so slowly this is becoming the norm. Nothing is impossible".
United Nations Youth Delegate, University of Malta Senate Representative, Law Student
"The world's largest age demographic is 18-30 but it is excluded from decision-making. My work is about achieving impactful youth participation – not token representation – because ours is the generation systematically prevented from engaging effectively, yet the one inheriting the impact of decisions being made without us. Being 'allowed' to make a presentation about climate change is not enough; we should be given the space to speak and be heard on peacekeeping, political, economical and global issues."
Emma de Gabriele always knew she wanted to make a positive contribution to the world (her Form 2 essay on gender inequality in contrast to her classmates' offerings about their hobbies gave a bit of a clue about her future path). She wasted no time after starting Malta University, becoming a senate member and serving as intermediary between students and board to ensure that student needs and wishes are at the forefront of university operation.
Not long after, Emma took her passion for advocacy up several gears by applying to the Ministry of Foreign Affairs for a brand new initiative and the most important role of her life. In 2021, aged 18, she became one of Malta's first two Youth Delegates to the United Nations, reporting to the Permanent Mission of Malta to the UN in New York. The pride of this achievement was matched by the challenge of defining and executing the duties of a position which, being the first of its kind for Malta, was unknown territory with no blueprint for Emma and her colleague to follow.
After a period of trial and error, Emma settled into her multidimensional appointment, representing the voices of Maltese youth on various issues to the UN, respecting the delicate nature of international frameworks and bringing back the results of her UN visits for roll out where applicable in Malta. Not surprisingly, delivering an address to the General Assembly at the UN New York Headquarters ranks as an unforgettable highlight for her.
Being able to advocate for youth who feel voiceless in the international system fills her with purpose.  She explains that it is not just about being the future generation of decision makers but about being today's influencers. Highly aware that Malta's youth feel disconnected from civic engagement, good governance and the work the UN does for their benefit, Emma has created a comprehensive operational plan for a pilot project comprising national stakeholders, aimed at enlightening and engaging the local young population.
The journey has not always been easy and the workload is not small. But Emma's efforts are not thwarted by systemic barriers and she feels fully supported by her New York and Malta colleagues, also crediting her educational and family backgrounds for encouraging critical thinking and open discussion.
"Looking to the future, International Day of the Girl acts as a reminder of the need for us to collectively advocate for sustained progress in gender equality to create spaces for girls to lead, and to ensure that policies that protect the rights and amplify the voices of girls are pushed forward."
Footballer, Sampdoria FC, Italy
Nina-Lee Naudi: (1) Age 4 during a training session, (2) Swieqi United FC – Season 22/23, (3) At Barca FC Football Camp June 2022, (4) Signing up with UC Sampdoria – September 2023
"When I was little and just starting to play, I was the only girl and not all the boys welcomed me. Nowadays I look back and think thank God I was strong and ignored those people who said 'football is not for girls'."
The footballing trajectory of Nina-Lee Naudi is easy to get excited about. Few people watching her as a toddler enjoying casual Sunday picnic ball fun could have predicted what her future held.
Aged just 8, Nina-Lee was separated from her parents for a week to attend a training camp at Manchester City's Etihad Stadium. She has also trained at Chelsea FC and in 2022 was one of seven girls among 36 children from around the world to train at FC Barcelona's legendary Camp Nou, culminating in her captaining her first squad on match day. Over a decade after Nina-Lee's parents were advised to enrol her in a club, her abilities with a football would lead to solo training with Argentinian coach Sergio Soldano and a 2023 move from Swieqi United FC to Italian team Sampdoria FC U-15's as central midfielder.
The young athlete's highlights reel includes a call up to join the Malta Football Association's academy, winning the 2022-23 season of the league with Swieqi United FC and recently wearing the Malta kit to represent her country for the first time in the UEFA Under 15's Development Tournament.
But the road to Genoa has also been a tough one to travel at times. While women's and girls' football in Malta has grown a lot – and her mother mentions that many career opportunities exist for females on and off the pitch – Nina-Lee was subjected to physical aggression at the start from boys unhappy with a lone female player's interest in football. Determined not to be pushed around, she used the experience to make her stronger. The decision to leave her family and country was also hard, as expected for any 14 year old.
Although Nina-Lee admits to not liking post-match lectures about what she did wrong or hearing how she needs to improve, I notice a sense of modesty and maturity. Referring to the UEFA match against Albania, she only speaks of her pre match emotions when singing the national anthem and not the fact that she scored one of the penalties that contributed towards Malta's win over Albania.
This is just a small handful of Malta's future wonder women. Elsewhere Maria Aquilina, budding astronomer and winner of the 2023 European Space Agency contest for her theoretical space mission,  admits her "greatest aspiration in life" is to show why girls and women should embrace science and maths. Revealing people's reaction of fear and awe to her Masters in Maths, she points out that "mathematics literally surrounds us" and wishes it was less feared given that it is the foundation of many disciplines.
The UN position is clear: girls can go on to change the world if properly supported during adolescence. Investing in the young girls of today – i.e. the workers, mothers, entrepreneurs, mentors, household heads and political leaders of tomorrow – leads to a more fair and prosperous future.
It is a future in which literally half of humanity is equally involved in solving the global challenges of climate change, political conflict, economic growth, disease prevention and sustainability.
And it should be a no brainer…