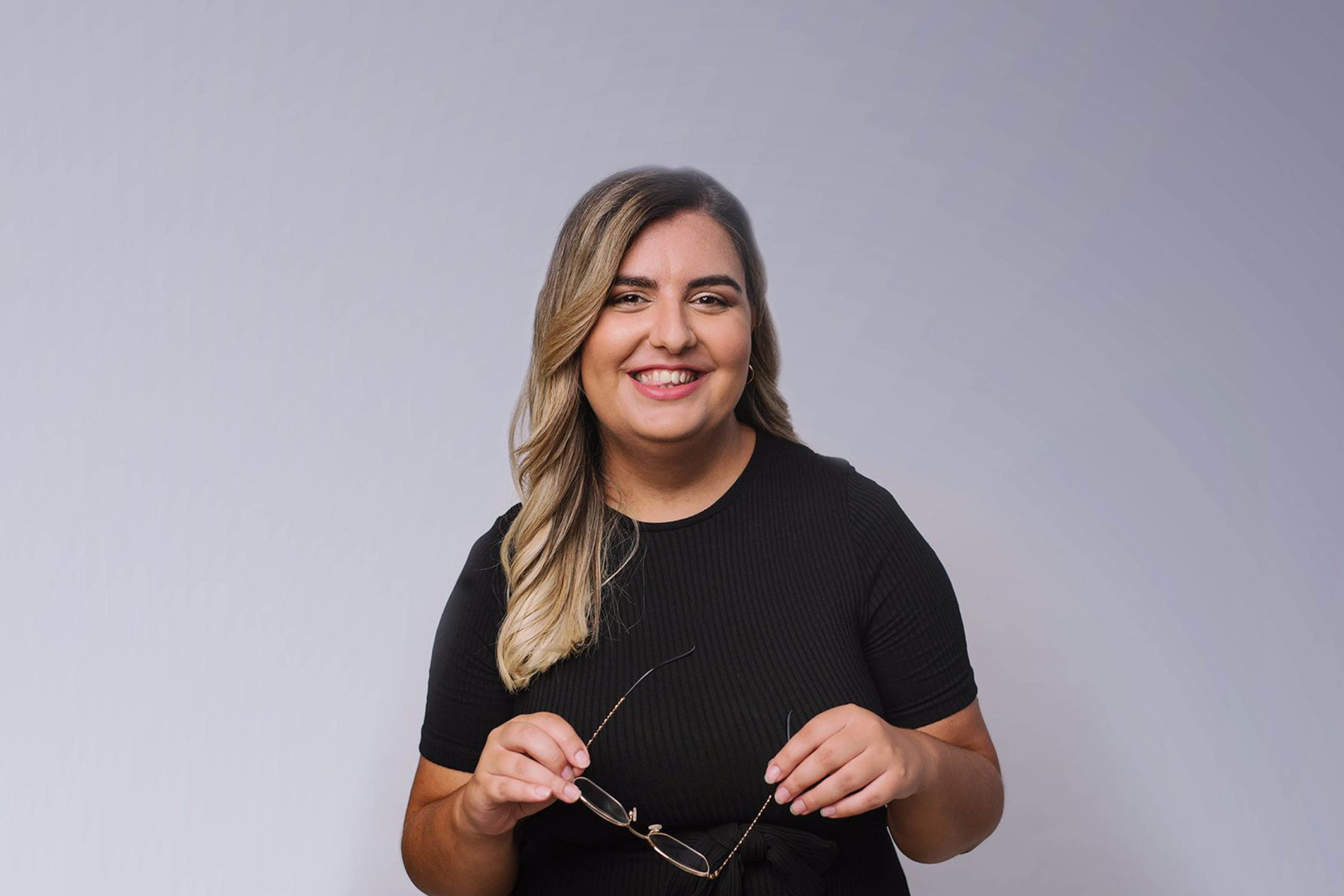 07 Apr

Female Entrepreneur's drive to Ensure Women's Safety in Malta
Feature photo credit: The Concept Stadium
An interview with Nicole Borg; founder at Sikura
We caught up with Nicole Borg to find out what drove her to found Sikura, her plans for the future of this social enterprise and why it is so important …
Nicole, we'd love to get to know you a little better. What is it that you do and what is your professional background?
I am a 26-year-old B.Hons. Communications with Theatre Studies graduate. Apart from establishing myself within the marketing, PR and journalism fields, I have been an active citizen through various local VOs and NGOs, predominantly with leadership organisation JCI Malta, where apart from serving the organisation for around 6 years in different positions, I led the organisation as National President throughout 2021.
Through JCI Malta I worked on endless projects including leading the JCI Malta Awards (TOYP & Friendly Business Awards) in 2018, Step Up For Europe – Make it Count project in 2019 and the Buy A Meal (receiving JCI Europe and Charlemagne Youth Prize Recognitions) and the National Debating Competition projects in 2020 among various other initiatives, events and projects. Recently I've been leading JCI Malta's Change Politics project aimed at encouraging young people to believe in their own voice and themselves, while also understanding that they have a place in the local political scene and their vote matters. I was made JCI Senator 78949 in 2020, receiving the biggest honour within JCI, only given to those who truly go the extra mile for the organisation, and in turn society.
Outside of JCI Malta, I previously worked as a journalist for over three years and have now expanded my focus on content writing, marketing and PR.
I am also a singer and am ½ of the local band The Velveteens. In my free time I'm busy buying and reading books to add to my ever-growing library.
You've recently come up with an idea that seeks to solve a social issue. Can you tell us all about it?
Yes indeed, my latest project: Sikura. The project came about following the two assassination of innocent women in Malta this year. The killing of Paulina Dembska, and shortly after that of Rita Ellul, has seen an uproar in Malta with many people demanding action to be taken and insisting things should change. I for one, wanted to say something too. However, from my past experience working with several NGOs on several relevant causes, I found that change doesn't come from just saying that it should happen. Change starts with those people who stand up and do something about it and through the support of those who believe in what they do.
The aim behind Sikura is to supply locally (whether through importing or designing) a line of devices that are trendy and subtle, for women to use if and when they find themselves in a moment of crisis that's abusive or life threatening. The brand will aim to offer as many different devices as well as services as possible that support women in feeling safer when alone.
Throughout the past months, several partners and potential partners were identified in order to start supplying the local market with several devices that would support women in feeling safer in Malta's streets. The aim is to provide more and more services and devices throughout the coming months in order to help equip as many people with varied budgets as possible.
So far, Sikura has partnered up with the Malta Self-Defence Academy in order to provide several self-defence classes and courses. While a device is fantastic to have, until help arrives women need to be equipped to also defend themselves and that is why we felt the need for our brand to partner up with an academy and provide classes as part of its portfolio.
Apart from the self-defence classes, Sikura is also launching this crowdfunding campaign with its first product: the Sikura Alarm Bracelet.
Have you always been entrepreneurial or has the rising concern around women's safety, coupled with your core values, driven you to pursue this path?
Ever since I was young, I always wanted to do something more I just had no idea what. I remember as a child, I used to learn about how to create my own jewellery and how to design note-pads. Growing up I ventured into baking and music with the aim to do something different other than a normal 9-5 job.
Understanding I lacked certain entrepreneurial skills, partially due to lack of confidence and self-belief, I joined JCI Malta, that essentially helped me achieve the kind of self-belief I was lacking. Through JCI Malta I also found a huge passion for projects and tasks that were of service to humanity, and I believe through that I understood why in the past, all the ideas I had to develop an entrepreneurial venture didn't develop: they lacked the element of helping people, the element of making a situation better.
Therefore, when these women got murdered this year, and I heard the outcry for someone to do something, I told myself maybe that someone could be me. And that is how and why Sikura was created.
While it is my first real entrepreneurial venture, it is much more than that. When I explain to people what Sikura is and what it aims to achieve I always say that the end goal for me here is not to become a millionaire off of a bad situation, but I'm starting Sikura with the aim of getting to a point where I do not need to sell another device ever again, because women truly feel safe and respected in society.
Can you share your process in exploring this business idea?
When I convinced myself I had what it takes to try and do something about the situation for women in Malta, I started to research possible avenues and companies that I could partner up with to make this a reality. Through contacting these companies and personal research I learnt a lot about what kind of devices and services were already available on the market and how such devices and services where performing. Through that, I learnt what I wanted Sikura to be and what I didn't want it to be.
Additionally, I looked into the local market, speaking to women of all ages and backgrounds and trying to understand the kind of situations they faced and what they believe is needed to help them feel safer. In fact, prior to this research I had left things such as self-defence classes out of the remit of Sikura. However, I eventually found that this was a necessity, and that is why I included it as one of the offerings through Sikura.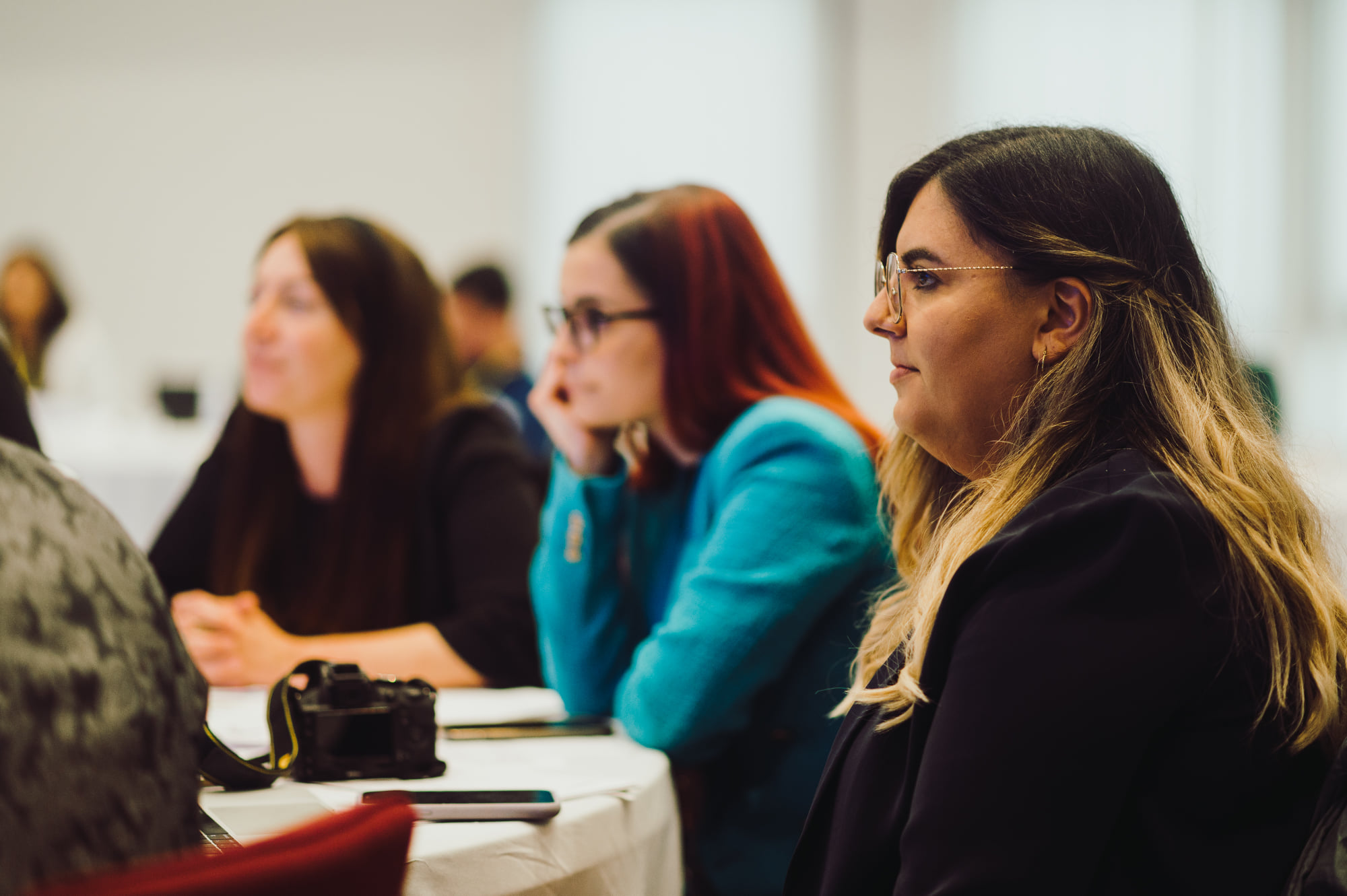 How does the proposed product actually work?
Sikura does not aim to provide one single product – but several so that our clients are able to feel safe in a way that works for them. The crowdfund launched a few weeks back on Zaar is there to help me get the works on the Sikura website and online store done as well as cover costs related to brand creation.
So far, the products that are available are the self-defence classes:
> Personal/Individual session – Our individual training sessions can be held either indoors (within the academy premises in Fleur-de-Lys) or at your home. These sessions can be either one-to-one lesson or else you can share it with a training partner/friend. This allows you to receive full attention by the instructor.
> Group Self-Defence session – On a weekly basis, people can join an actual Martial Arts and take on a Kungfu/Self-Defence beginners' class.
> Group Personalised workshops – Whether as a family or friends group or else looking at your next team building event for your employees, thanks to the Malta Self-Defence Academy, Sikura also offers a Kung fu/self-defence personalised workshop. This can be held either at the academy's premises or else at a premises of your choice (office or home). This could be a one-off class or else a recurring session.
Apart from the self-defence classes, I also previously mentioned the Sikura Alarm Bracelet. This alarm bracelet is worn like a wristwatch and is therefore quickly accessible in case of dangerous and emergency situations. After all, every second counts in an emergency. By simply pushing the alarm button, a 120 dB loud alarm is activated, immediately deterring the attacker. The very loud sound (for comparison: a jet fighter taking off has approx. 125 dB) also alerts other people to help out.
What stage of the product development have you reached and how do you propose to proceed from here?
Apart from what I previously explained, I am currently continuing my search in locating the ideal products to make available through the Sikura platform, whether its through importing or putting together a local team of like minded individual to create a device that fulfills as many needs as possible when it comes to women safety.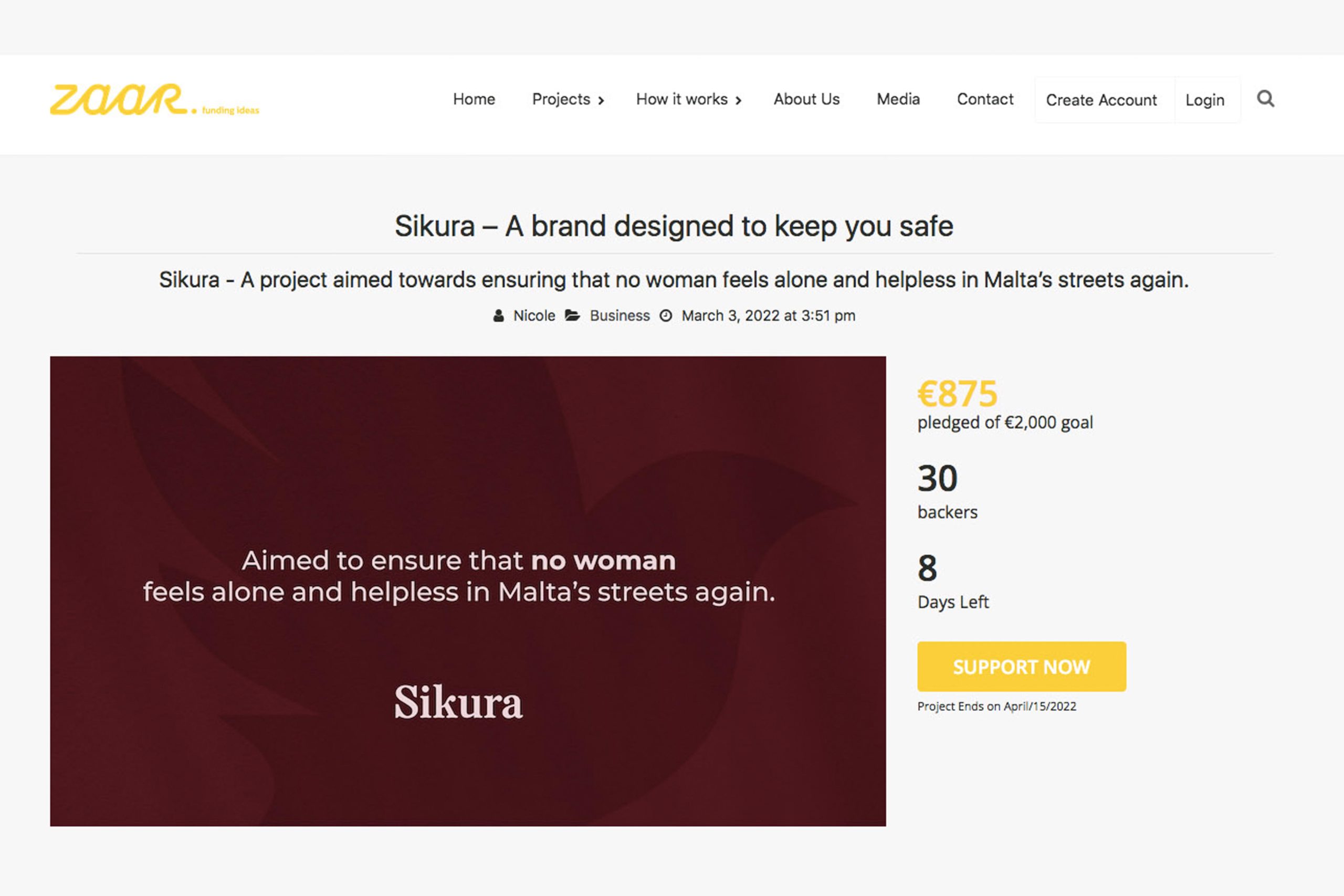 What resources did you approach to get financing for your idea and how can readers that resonate with your purpose contribute to making this materialize?
The first source of funding I've launched is a crowdfund on the Zaar Crowdfunding Platform. This crowdfund was set up in order to help this project get the necessary capital to kickstart and establish itself locally. The first steps are securing a strong brand and an equally strong web platform and store for the Sikura brand.
Apart from selling products, the platform will include several blogs and initiatives around education on violence and discrimination based on gender. Additionally, through the crowdfunding campaign, those interested will also be able to pre-buy the Sikura Alarm Band, the first available Sikura device locally mentioned previously.
Those donating are able to benefit from several rewards, that can be found on our crowdfund page from here: https://zaar.com.mt/projects/sikura-a-brand-designed-to-keep-you-safe/
Additionally, those who want to donate smaller amounts than that available on the website, can reach out to us via the Sikura Facebook page so we can explain alternative ways to donate.
How would you describe your crowdfunding experience? Has it changed anything about your project in terms of production, concept, or your expectations about it?
The crowdfunding experience so far has given me great courage. Being close to reaching 50% of the €2,000 goal makes me feel like there are people out there who see this as a good temporary solution for them. The crowdfund has also helped me start locating people with whom I can eventually parter in order to create devices that truly assist women in feeling safer. My aim is to have a total of 5 different devices/services available by the end of 2022, and continuing to add on to this and expanding the ways in which Sikura can help women feel safer throughout the upcoming years.
Once you reach your crowdfunding goals, what are your next steps?
Once the crowdfund ends and positively reaches its goal, the work on the website will commence. Here, the aim is to get the platform up and running and ready for people to start purchasing their products. In the meantime, the work to establish Sikura as a company will also commence, as well as the purchasing of any stock required to ensure that there's a basis to support our first Sikura clients.
Additionally, I will also be working to speaking to several women organisations and entities supporting women in need to locate women that can be part of the Sikura Programme that provides free devices to those who truly do not afford it. As I previously explained, the aim of Sikura is not to become a multi-million company, but to help as many women as possible feel safe, including those who might not have the money to pay for our products or services.
How can readers stay in touch and up to date with your social enterprise?
Those who would like to keep up to date with Sikura's ventures can do so via Facebook, LinkedIn, Instagram, Email and once the crowdfund is over via our website.
Best of luck Nicole, we look forward to continue to support you, and in turn all women, as your story with Sikura continues to unfold.