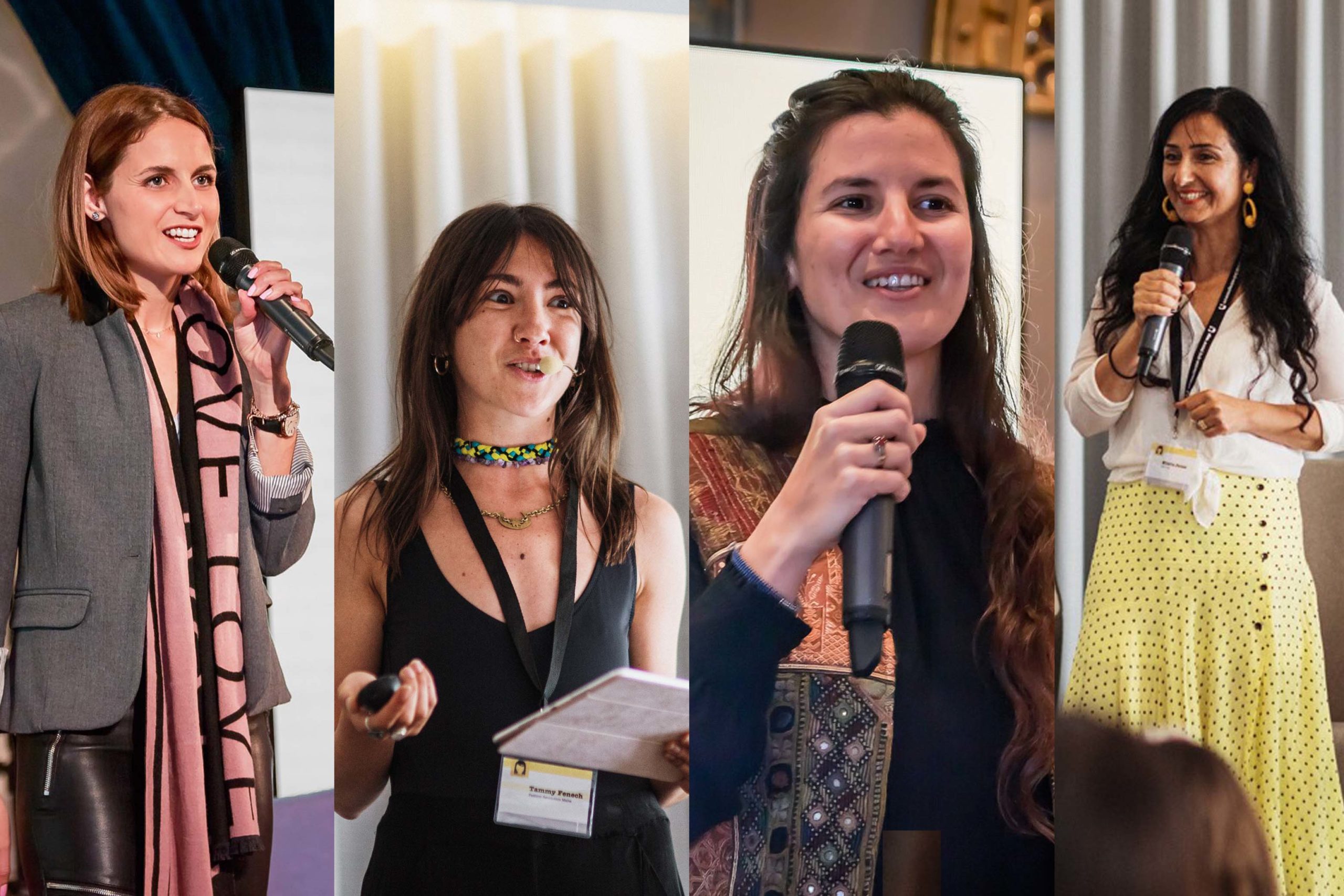 30 Mar

Part 2: The SHE OG's – Where are they now?
Written by Prabjit Chohan-Patel
Following our first SHE OG's article featuring four amazing women, our second piece brings you the profiles on four more kickass female entrepreneurs. Interviewing them has been a genuinely awe-inspiring and educational experience. What has also been striking is their absence of ego and total presence of humility. No further words. Their stories are enough.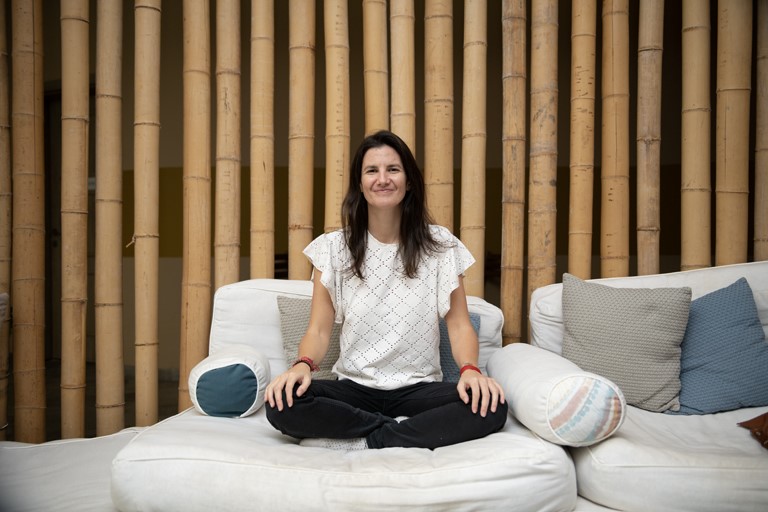 Yasmin de Giorgio – CEO Shireburn & Founder Sanya. 
Whether helping people through software  solutions or helping employees grow professionally or helping Sanya clients improve their mental health, I think I'll always have the same calling.
A high octane UK university experience, disconnection, self discovery, spirituality, veganism, travels,  launching two businesses and becoming a tech CEO (and EY 2023 Rising Star)… Yasmin de Giorgio has already packed about four lives into one. And she's not done yet…
Can you describe your background?
After moving to the UK to study Economics and Management, I stayed for a Masters in International Development which both fascinated and demoralised me. Learning the destructive impact of world banks and big business on entire countries, I entered a disillusioned 'radical' stage of life.  I got dreadlocks(!), embarked on world travels, discovered impactful books like Minding your business by the founder of Aveda and started exploring spirituality. Later on, I bought a trailer and shipped it to Malta to open my first business in 2013, the green cafe Grassyhopper (mainly so I could eat somewhere after becoming vegan)! Readjusting to Malta was hard as I felt disconnected from the non like minded people around me. 
I opened Sanya in 2016 as a safe mentally and physically nourishing sanctuary that was in line with my own ethics and sold Grassyhopper in 2018. They were super challenging years. I'd become an entrepreneur without the commercial skillset for the catering industry and suffered immense financial stress my first few years in the wellness business.
Then my father retired from Shireburn, a 40 year old software company specialising in payroll, attendance, time tracking solutions. The search for a new CEO started… 
So, what's the story behind joining Shireburn while still running Sanya?

Shireburn was born before me so it's always been in my life. Finding a new CEO was challenging and even included my dad returning for a while. But seeing the toll it took on him, I offered to find a suitable replacement…which coincided with a family friend suggesting me for the role! Although the family business was close to my heart, I wasn't going to give up Sanya to take over the Shireburn reins. My dad also hesitated as he wanted to do things the 'right way' and not be associated with nepotism. After some back and forth, in the end we found a way as it was important to me to protect my father's legacy. I also realised it presented me with a huge learning opportunity as it's so different to Sanya (and maybe a useful resource for helping roll out other business visions). 
My first step was to enlist the help of HR and run a company-wide study and focus groups. I analysed the survey results, listened to what employees said and fixed whatever issues clearly emerged. It was an eight month process of significant restructuring and reassignment of responsibilities, including encouraging people to step up from their usual roles.
What do you particularly enjoy about running two very different companies? 
With Sanya, it's very human and organic: simply the impact we have on people's wellbeing. It's beautiful and meaningful. Meanwhile at Shireburn, I get really excited by the dynamism of our software solutions and what it can do for our clients. Also, constantly having to adapt and modify. Learning what works and understanding  product design and logic. As we build Cloud-based solutions, our software is a living organism, not a static entity.  
And what do you find challenging?
Actually I find the so-called challenges enjoyable. But it's definitely interesting dealing with 30 different software developers all of whom have to agree on how to build, design, test, implement our  Indigo product for example. And of course just the sheer responsibility of running a company like Shireburn and all that goes with it, including the privacy, security, biometric data and financial aspect of handling 110,000 payrolls per month. Ultimately, the buck stops with me. It's immense and I'm only human. But…you have to find healthy, self-kind ways to cope. 
As for Sanya, the initial years of commercial hardship and the search for a solid team in whom I had faith were tricky. But the business has now reached maturity and I have a great team in place.
How are you balancing the two worlds of Sanya and Shireburn?
I split the week equally between each company. Thanks to Shireburn's longstanding great COO, I don't have that many fires to put out and am mainly needed more for the big picture stuff rather than day to day micromanaging. And then I have an assistant who was my non-negotiable part of my agreement to join Shireburn! 
What strategies or lessons have you learned from your past endeavours and implemented today?
Plenty. To maintain an open door policy while also recognising the need to balance a sharp businesslike approach (not shying away from tough decisions) with my compassionate side.
To stick to my own management style and not to try to replicate my father's – including using interpersonal skills acquired via my own self development, to guide and advise people.
To respect the existing gentle culture while also empowering people to step out of their comfort zone and take on more responsibility or develop other skills.
Stress management techniques that enable me to look after myself and my employees. Recognising human limits, not always working at an intense pace or letting success affect ego.
To make peace with the worst case scenario (i.e. what would I do if I went bankrupt?)
To stay in my 'lane'(!). I don't get involved in product design as we have amazing people who know what they're doing. But I bring other things to the table.
Conversely, what would not repeat from your past professional experiences? 
Never ever will I put myself under the financial pressure that I did with Sanya. The hardest learning was the financial burnout where I lost so much the first three years that I had no idea how I would keep Sanya going. So any project I undertake must be properly structured from the start.
Would you say you've found your passion/calling in life?
Is Shireburn that? I think my calling is beyond business. It's to help people. If Sanya closed tomorrow, I'd still have the same calling. Whether that's helping people through offering the right software  solutions or helping employees grow professionally or helping Sanya clients improve their mental health. 
Emma Hogg – Founder of the self-development agency, A Life I Choose.
'I grew my business and then edited it!'
Some people know early on what they want from life. Emma always knew she wanted to have a positive impact on people's lives and be a therapist; so she became one. With a strong interest in coaching and the flexibility of self employment, she then became a coach and opened her own practice. Knowing motherhood was also in her plans, she became a parent later on. While both our SHE OG's features mainly cover people who changed career direction to launch new ventures, our profile on Emma is a bit different. We look at the evolution of her business, how she redefined and course corrected and then addressed the challenge of combining entrepreneurship with motherhood.
In a nutshell, can you describe your background?
All my life, I've been fascinated by the human condition, seeking to understand those who thrive versus those who crumble in the face of pressure – what motivates and ignites us versus what hurts us and tears us down. As a child, I wanted to make people feel better but knew ultimately people can only do this for themselves. Growing older, I set about equipping myself with the best tools possible to thrive – studying psychology, psychotherapy and coaching – certain I could use my learnings to benefit others too.  
Tell us about the beginnings of A Life I Choose
In my 20's I started building A Life I Choose with this very mission to help others thrive. Starting off with a blog and YouTube channel, I then moulded it into a dedicated self-development agency in 2016. Through my 'Lifestyle Strategy' Sessions and 'Kick-Ass Career' course, I help clients (including CEO's, small business owners and university graduates starting out) to overcome their challenges to build meaningful, joyful and expansive lives. 
What elements have been involved in your business evolution?
I embraced hustle culture and worked around the clock to build my practice and it really took off.  By Summer 2020, numerous people were coming to me as they were unhappy at work and seeking solutions to achieve more fulfilment, flexibility, freedom, pride and financial independence. I had a three month waitlist and was working non stop. I had to come up with a way to relieve some of the physical and mental load but of course continue to serve my clients effectively. So I developed a video course and workbook 'version' of my one on one  private sessions. 
Then after trying for a while to start a family, my son arrived in 2021 and my previous work rate was no longer practical or sustainable. Once again I had to adapt and adjust.  I needed to do right by him and be a present and connected mother but also couldn't let the demands and obligations of parenthood negatively impact what I'd spent years building.  So to help me maintain a consistent quality service, I recruited and trained a team to whom I could delegate.  However, in time it was clear it just didn't work from a commercial perspective. Yet again, I had to restrategise…resulting in the removal of certain parts of the service and letting the team go and returning to solo practice.
Can you name three things you find particularly rewarding about what you do?  
The deep two-way trust my clients and I share together. 
Being able to guide and witness people tangibly improving their lives (and the heartwarming way  they then become my spokespeople!).
The satisfaction of observing a particularly resistant client actually implement my advice and experience a breakthrough.
How do you make motherhood and entrepreneurship work?
The priority is to spend time with my son every day, no matter whether that's the morning or afternoon and no matter the length of time. Thanks to a support system that also includes the help of a nanny, I've worked out a flexible schedule that makes it possible for me to be both a dedicated business owner and mum. My husband also makes it a point to have two afternoons with our son which helps me plan out my work.
And what do you find the most challenging?
I realised I always feel like I need to handle every task and come up with every solution. It's been a lifelong recurring theme. When it comes to balancing business and motherhood, I've had to work on releasing resentment as it's harmful and of no benefit to my marriage. I now know I don't have to think of everything as I have supportive people around me.  It's about reframing expectations and/or approach (eg. by simply being clear and asking my husband to help with something).
Have you channelled any of your experience as an entrepreneur into parenthood?
For sure. To have faith in myself and trust my intuition.
To be aware of hypothetical fear versus real concern (not easy when your child is ill for instance).
To stay with reality and not let worry and panic get the better of me.
To not work relentlessly to the point of being unable to shut the laptop at night. (I didn't know myself without work and felt there was 'nothing else to go to'.) 
Conversely, do you think parenthood has been a big revealer?
Definitely. I was terrified having a child would force me to give up parts of myself but in fact, it's the opposite! I get out more, do things I'd never have done and realise my son has not limited but enriched my life. To calm down on goals and not be in such a hurry to create and build. 
To open up and choose to receive  the abundance that's all around me instead of feeling I'm solely responsible for creating my abundance. 
Would you say you've found your passion/calling in life?
Absolutely. Both with A Life I Choose and with my son.
Tamara Fenech, Founder and Sustainable Business Strategist, Cosie Studio
Many business owners think they must sacrifice their environmental responsibility to meet their financial goals…but operating sustainably can actually create economic opportunities.
Coming from a long lineage of lawyers, Tamara found people just switched off at her mention of fashion design studies.  However, supportive parents and her own determination led her to graduate from Leeds College of Art – discovering a passion for sustainability and embarking on a career/life path that would include Bali, India and Germany. From an initial interest in fashion design, to becoming an accidental poster girl for sustainable fashion in Malta, to launching her own consultancy – unconnected to fashion…Tammy's story is intriguing.
Tell us about your background and previous ventures.
After my initial UK sustainable fashion exposure, it was my post-university 2013 travels to Asia that instigated my real 'immersion' in the subject, opening my eyes to the business, design and supply chain aspects of the garment industry. So I moved to Berlin in 2016 to pursue a Masters in sustainable fashion – also attending conferences that taught me sustainability can be applied to  industries beyond fashion. That's when I got interested in building business models to help  brands operate sustainably. 
While still living in Germany, I spearheaded the launch of NGO Fashion Revolution Malta. I was becoming aware of the 'sustainability gap' here and one of my visits happened to coincide with Fashion Revolution week – an annual global initiative resulting from the fashion industry's shakeup after the catastrophic 2013 collapse of an Indian garment factory. As Malta had no Fashion Revolution coordinator, I assumed this role in 2018 organising a screening of True Cost (a documentary revealing harsh truths about the fashion industry) on the anniversary of the tragedy – and that's how the NGO was born. Our small team of volunteers ran physical and online campaigns from 2018 but these are  currently on a hiatus as many of us are busy with other projects including myself with Cosie Studio.
Talking of which: tell us about your sustainability agency Cosie Studio.
Through Cosie (Co-creative Sustainable Ideas and Endeavours) Studio, I support entrepreneurs to build sustainable brands or help them with implementing sustainability into their existing brands, and mentoring them throughout the process.
What led you to launch Cosie?
Well, self employment was a product of circumstance rather than an active choice! Finding a permanent role in Berlin was impossible as employers prioritised German language, experience and seniority in the industry. However, the universe led me into freelancing as many Malta-based firms started approaching me due to my NGO work. I found myself advising and guiding businesses on integrating sustainability and was able to work remotely, splitting my time between Germany and Malta. Launching an 'official' business last summer required me finally moving back to Malta soon after.  
What do you particularly enjoy/find rewarding about your current role/venture?
Knowing that I've carved out a safe space for a brand where they feel supported in their sustainable efforts makes me feel I've done my job. It's super satisfying seeing the end result where our solutions and plans are actioned.
And what do you find challenging?
Working alone is tough, especially on projects with complex needs where it would help to have a soundboard/colleague to brainstorm with and stop me from analysis paralysis! 
The potential for my passion to burn me out before I see significant results…I'm still learning how to use my passion as a superpower that mobilises instead of one that paralyses me. 
Getting clients to remain committed to the strategies we set out together. In fact, I'm implementing some new processes to handle this such as accountability calls after a certain period of time, to support them in making the strategies work with their ever changing realities.
What are the positive experiences or lessons you have acquired so far?
I've learned we can often weave our past experiences (even if they seem irrelevant) into what we do today.  When I embraced yoga and spirituality in India, I wanted no involvement in business. And yet…I now integrate my practice into the advice and support I give my clients, eg. using meditation for one to one entrepreneur workshops, creating personalised dashboards with mindfulness  resources and even using my yoga learnings to 'coach' clients on self sustainability. 
I've also realised a client can't build and lead a sustainable business without working on sustainability in their own life first. 
Equally, I believe sustainability – in business or life – involves a happy middle ground. You may think you don't operate sustainably as you only achieve it in some areas – but it's actually a constant process of learning and trying to be adaptive and agile, not about striving for perfection. 
Conversely, do you have any won'ts and don'ts from your experience?
I won't change the vision I have for Cosie to fit the needs of the current market, which is sometimes what we tend to do in order to achieve quicker results. It's important that my clients are aligned with my principles and understand that sustainability is a commitment, one that usually comes from the heart.
Would you say you've found your passion/calling in life?
A few years ago, I would have said yes, my life's purpose is to create sustainable brands. Ironically, after all the years of study and work, I'm not so sure now! I'm still evolving, tuning in to what energises and 'feeds' me. I know my career will still be entwined with sustainability ten years from now but I think it will involve more of the mindfulness aspect and personal connection than the current commercial angle.
Elleria Janås – Ellie & Carl Body Confidence Coaching
I've done many things in my life, even experiencing burnout, but nothing was a waste of time because everything brought me something.
Listening to Ellie talk about her passion is like being treated to a fascinating walking talking encyclopaedia of well articulated knowledge and gems of wisdom. From hospitals to amusement parks to skincare brand owner to body confidence coach – with a 'motherhood sabbatical' along the way – Ellie probably has enough material for a memoir. But let's start with this interview.
What do you do as a body confidence coach?
I gently guide clients on tackling emotional eating, getting out of their yo-yo diet trap and finding food freedom. Binge eating/drinking/people pleasing are all mechanisms we develop over the years to cope with past trauma. But we can't let the subconscious mind keep turning up and running our life. I figure out why people overeat or constantly diet and help them remove the behavioural layers that they've subconsciously adopted to protect themselves from their own negative thinking. 
Traditional dieting triggers a stress response which isn't sustainable long term for a healthy body. So I use various strategies including EFT (emotional freedom technique) tapping to help people release whatever is not serving their bodies and brain. This is not a calories in – calories out weight loss programme. This is about dealing with the root cause of people's issues with food. (But weight loss is an automatic benefit of this.)
What's your background?
I was a psychiatric ward nurse in Sweden, completed a Masters in business and administration and worked as an accounting assistant in hospital administration. I later switched sectors becoming an amusement park manager for ten years before moving to Cyprus and then Malta. I launched Ellie & Carl Skin Botanicals from Malta. Learning about social media, marketing and being my own boss was a huge but wonderful readjustment after years of motherhood and feeling disconnected from my previous career-driven self. 
Why move from skincare to body confidence coaching?
When Covid hit, most of my stockists closed and I had problems sending products abroad which lost me customers and made it difficult to continue my skincare business. However, I was already feeling stuck with Ellie & Carl before the pandemic and knew something else was calling me – something beyond skincare and more about inner voice and self love – after noticing how many of my customers could only see flaws instead of their beauty. I went back to studying and came across a small mention of EFT and ended up taking an entire course on it.

What do you particularly enjoy about body confidence coaching?
Seeing a visible shift through the use of EFT: tapping calms a person down: their shoulders lower, their breath becomes deeper rather than short and shallow, they start talking from their stomach (the power centre) rather than the top of their voice. Ultimately, they regain control again. 
Journeying back in time with a client to identify that emotion, memory or event that controls them and freeing them from the negative hold a particular food has over them. And hearing comments like "I didn't even know I had this issue" or "I haven't touched one slice of bread!" touches my heart. 
And what do you find challenging about it?
Wearing the many hats required to run a business: having to be a marketer, CEO etc responsible for advertising, communication and also servicing clients.
The remoteness of it; I mainly do online sessions with clients abroad so I belong to a few accountability groups that keep me on track and connected to others.
Are there any positive lessons that you have ?
Yes I feel we often forget our experiences and skills but they're all inside us waiting to be used. Whatever we do, it's never for nothing. My amusement park role required creativity, following a budget and processes and devising numerous strategies.
I've also learned how to pick the right tool as every job (client) requires something different. Similarly, I can't help people if I don't practise my own 'emotional hygiene'. Working on ourselves from the inside out is key.
Has your previous professional experience taught you what to avoid/not repeat?
Not taking the pain home with me. My nursing years exposed me to some of humanity's darkest spaces and I didn't have any tools to handle the traumatic experience. I relied on sleeping pills, alcohol and cigarettes to get me through the acute stress of simply existing in 'survival mode'. 
Ironically, I treated myself the worst when I worked in healthcare! As a body confidence coach, despite my scars and imperfections, I now love my body, looking after it and saying yes to me. I'm no longer the crazy over worker who had no boundaries and was totally disconnected to herself.
Would you say you've found your passion/calling in life?
100% this is my path. I've always wanted to help people. Even as a successful manager winning awards, I didn't feel like I or it was enough. I've gone from the western hospital environment to more of an ongoing healing approach. I feel like I'm finally home. 
Get the FREE download of Ellie's Ebook "Discover The Hidden Hungers"
We continue to connect with so many wonderful women doing so many amazing things through the SHE Community. We applaud every single lady we have crossed paths with – each of your journey's has taught us something or inspired us in some way. We look forward to more inspiring stories, connections and collaborations. Join us here!